Our top management
The Rotarians who lead our organization globally have previously proven themselves to be members of their clubs, districts and regions and have lived our values: integrity, experience and commitment.
Our management bodies are international. We need this diversity to be able to formulate globally working guidelines for the use of our funds and the management of our members and employees. Together, the committee members from all over the world also develop a strategic plan that can be valid worldwide and take effect regionally – in order to create sustainable change.
President Rotary International
2020/21: Holger Knaack
General Secretary
John Hewko
Board of Directors
17 Directors (je 1 f√ľr 2 Zonen)
Director of Zones 21 and 22
Katerina Kotsali-Papadimitriou
Zone Coordinator Zone 21
Daniel Tanase
District Governor District 1910
2020/21: Peter Adler
The President of Rotary International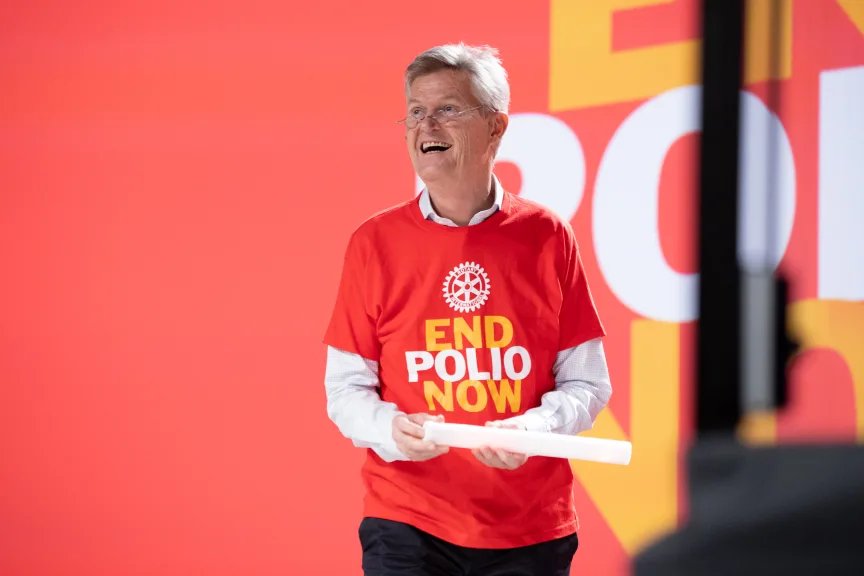 The Rotary President is elected for one year and represents the World Organization. He also chairs the board of directors' meetings.
Meet our general secretary and chief executive officer
Rotary isn'Äôt just a club for people to join, but rather 'Äúan invitation to endless opportunities,'ÄĚ said Knaack, who becomes president on 1 July. He emphasized that Rotary creates pathways for members to improve their lives and the lives of those they help through service projects.
'ÄúWe believe that our acts of service, big and small, create opportunities for people who need our help,'ÄĚ Knaack said. He added that Rotary creates leadership opportunities and gives members the chance to travel the world to put their service ideas into action and make lifelong connections. 'ÄúEverything we do opens another opportunity for someone, somewhere,'ÄĚ said Knaack.
Changing for the future
Knaack also urged members to embrace change so Rotary can expand and thrive. Rather than setting a specific target for increasing the number of members, Knaack said he's asking clubs and districts to think about how to grow in a sustainable and organic way. He wants clubs to focus on keeping current members engaged and adding new members who are the right fit for their club.
"We will capture this moment to grow Rotary, making it stronger, more adaptable, and even more aligned with our core values."
'ÄúWe need to stop thinking of new members as people we can mark down as statistics and then forget about,'ÄĚ Knaack said.
'ÄúEvery new member changes us a little bit. That person brings a new perspective, new experiences. We need to embrace this constant renewal. We will grow stronger as we learn from new members.'ÄĚ
Knaack pointed to Rotary's Action Plan as a compass that can guide clubs as they evolve. He recommended that every club have a strategic plan meeting at least once a year. At that meeting, clubs should ask where they want to be in five years and how they can bring more value to their members.
Knaack also wants to see more women in leadership roles and see Rotaractors play an integral role in how new clubs are formed and run. He encouraged district leaders to create new club models and rethink what it means to be in Rotary, and allow young people to be the architects of these new clubs.
'ÄúWe have to be open to new approaches, and creating unique clubs for younger people is just part of the solution,'ÄĚ said Knaack. 'ÄúLet Rotaractors decide what kind of Rotary experience works best for them. These young people are bright, energetic, and they get things done.'ÄĚ
In stressing the need for Rotary members to embrace change, Knaack noted that time won'Äôt slow down for Rotary: 'ÄúWe will not let rapid change defeat us. We will capture this moment to grow Rotary, making it stronger, more adaptable, and even more aligned with our core values.'ÄĚ
Trustee Chair
The trustee chair is elected by the Board of Trustees and leads The Rotary Foundation for one year.
Meet our general secretary and chief executive officer
As trustee chair, Ravindran will oversee Rotary's top humanitarian goal of eradicating the paralyzing infectious disease polio. The Global Polio Eradication Initiative, formed in 1988, is a public-private partnership led by Rotary, the World Health Organization, the U.S. Centers for Disease Control and Prevention, UNICEF, the Bill & Melinda Gates Foundation, and governments of the world. Rotary's focus is advocacy, fundraising, volunteer recruitment and awareness-building. Rotary club members worldwide have contributed more than US $1.4 billion and countless volunteer hours to the polio eradication effort.
Today, there are only three countries that have never stopped transmission of the wild poliovirus: Afghanistan, Nigeria, and Pakistan. Less than 370 polio cases were confirmed worldwide in 2014, which is a reduction of more than 99.9 percent since the 1980s, when the world saw about 1,000 cases per day.
A Rotarian since 1974, Ravindran has served Rotary as a director and treasurer of Rotary International and as a trustee of The Rotary Foundation. He has been awarded The Rotary Foundation's Citation for Meritorious Service and Distinguished Service Award and the Service Award for a Polio-Free World. As Sri Lanka's chair of Rotary's polio eradication efforts, Ravindran led efforts to eradicate polio from Sri Lanka. His country became one of the first in Asia to become polio-free in Asia. The PolioPlus task force which he headed consisted of representatives from Rotary, UNICEF and the Sri Lankan government. The partnership successfully negotiated a ceasefire with the northern militants to allow polio immunizations to continue during scheduled National Immunization Days.
Ravindran is founder and CEO of Printcare PLC, a publicly listed company and global leader in the tea packaging industry. He also serves on the board of several other companies and charitable trusts. He is the founding president of the Sri Lanka Anti-Narcotics Association, the largest antinarcotics organization in Sri Lanka.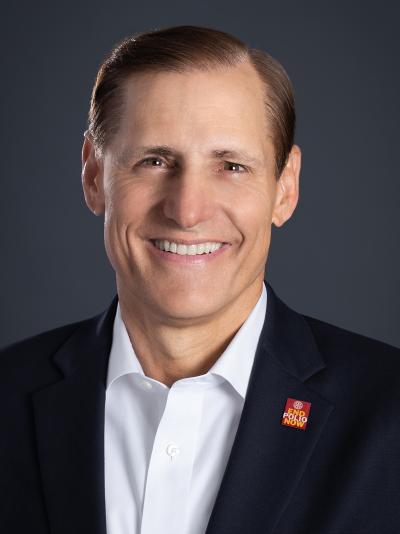 General Secretary and Chief Executive Officer
Rotary's general secretary and executive team oversee a staff of more than 800, who serve Rotary members from our world headquarters in Evanston, Illinois, USA, and seven international offices. The general secretary is a member of the Rotary International Board of Directors and The Rotary Foundation Board of Trustees.
Meet our general secretary and chief executive officer
John Hewko has been Secretary General of Rotary International since 2011. Hewko is a founding member of the Rotary Club Kyjiv, Ukraine. In his free time he enjoys racing bikes, a hobby that he likes to use for a good cause. On a bike race in Arizona, he and a group of Rotarians raised over $ 50 million in 2015 to eradicate polio.
'ÄúIt is a great honor for me to be able to do something more than just my job for this great organization. I see Rotary as THE original social network that was formed to share ideas and share resources so that we can improve the lives of people around the world. We are a strong and prominent non-governmental organization (NGO) that has set the bold goal of eliminating an illness worldwide, and we have not let up in this struggle for over three decades. It's a thought that inspires me every morning. "
Katerina Kotsali-Papadimitriou
Katerina Kotsali-Papadimitriou was born in Pafos Cyprus. She earned her architecture degree from the School of Architecture No. 1, √Čcole Nationale Sup√©rieure des Beaux-Arts, Paris, and holds a diploma of profound studies in history and geography of populations and a doctorate in human geography.
Since 1980, she has worked as an independent architect in Athens, planning houses, offices, and public buildings. She also served as a consultant during the historic preservation of 18th and 19th century architecture in Mithymna on the island of Lesbos. She has been member of the board and shareholder of the company Metal Constructions of Volos S.A.
She is married to George Papadimitriou, economist and they have one daughter Eleanna, economist.
Kotsali-Papadimitriou grew up surrounded by Rotary because her father was a district governor. At age 19, she joined Rotaract. In 1993, she was inducted into the Rotary Club of Pendeli, making it the first mixed gender club in Greece.
Her service to RI includes being a member of The Rotary Foundation Cadre of Technical Advisers, Rotary Public Image Coordinator, and RI president's representative. She also went door-to-door, administering polio vaccine to children in Moradabad, India, in 2009, as leader of Greece's first Rotary national immunization day team.
Her Rotary recognitions include the R.I. Avenues of Service Citation, The Rotary Foundation Regional Service Award for a Polio-Free World, and the Rotary Foundation for Meritorious Service. She and her husband, George, are Major Donors to The Rotary Foundation.
_____________________________________________
*) Zone strucutre:
ZONE 1: Section A: Japan (northern) Section B: Bangladesh, Indonesia, Pakistan
ZONE 2: Guam, Japan (central), Micronesia, Northern Marianas, Palau
ZONE 3: Japan (southern)
ZONE 4: India (western and northern)
ZONE 5: India (southern), Maldives, Sri Lanka
ZONE 6: Bhutan, India (eastern), Nepal
ZONE 7: India (central and southern) 
ZONE 8: Australia, New Zealand and Pacific Islands
ZONE 9: China, Hong Kong, Macau, Mongolia, Taiwan: 
ZONE 10: Section A: Philippines  Section B: Cambodia, Laos, Myanmar, Thailand, Vietnam 3330, 3340, 3350, 3360 Section C: Brunei, Malaysia, Singapore 3300, 3310 
ZONE 11: South Korea (northern) 
ZONE 12: South Korea (southern) 
ZONE 13: Section A: Andorra, France, Monaco  Section B: Belgium, Luxembourg 
ZONE 14: Italy, Malta, San Marino
ZONE 15: Germany (northern and central)
ZONE 16: Section A: Germany (southern), Israel  Section B:  Switzerland, Liechtenstein
ZONE 17: Section A: Latvia, Sweden (northern) Section B: Aland Islands, Estonia, Finland, Russia (western)
ZONE 18: Denmark, Faroe Islands, Greenland, Iceland, Lithuania, Norway, Poland, Sweden (southern)
ZONE 19: England (northern), Ireland, Isle of Man, Northern Ireland, Scotland, Wales
ZONE 20: Section A: England (southern), Channel Islands, Gibraltar   Section B: The Netherlands:   Section C: Portugal, Azores Islands, Madeira Islands, Spain 
ZONE 21: Section A: Austria, Belarus, Bosnia and Herzegovina, Croatia, Czech Republic, Hungary, Republic of Moldova, Romania, Slovakia, Ukraine Section B: Afghanistan, Albania, Armenia, Azerbaijan, Bahrain, Bulgaria, Cyprus, FYROM, Georgia Greece, Jordan, Kazakhstan, Kosovo, Kyrgyzstan, Lebanon, Montenegro, Palestine, Serbia, Slovenia, Sudan, Tajikistan, Turkey, UAE
ZONE 22: Africa
ZONE 23: Section A: Brazil (southern)  Section B: Antarctica, Argentina, Bolivia, Chile, Ecuador, Paraguay, Peru, Uruguay
ZONE 24: Section A: Brazil (central)  Section B: Brazil (northern)
ZONE 25: Section A: Belize, Colombia, Costa Rica, Dominican Republic, El Salvador, Guatemala, Honduras, Mexico, Nicaragua, Panama, Venezuela  Section B: USA (TX)
ZONE 26: USA (AZ, CA, CO, HI, NM, NV, TX)
ZONE 27: USA (CA, CO, ID, MT, NE, NV, OR, UT, WA, WY), Canada
ZONE 28: Canada, Russia (eastern), St. Pierre & Miquelon, USA (AK, ME, MI, NY, WA)
ZONE 29: USA (IA, IL, KS, MI, MN, ND, NE, OK, SD, WI), Canada
ZONE 30: USA (AL, IN, KY, OH, TN)
ZONE 31: USA (AR, IL, KS, LA, MO, MS, OK, TN, TX)
ZONE 32: Bermuda, Canada, USA (CT, MA, ME, NH, NJ, NY, PA, RI, VT)
ZONE 33: USA (D.C., DE, MD, NC, PA, SC, TN, VA, WV) 
ZONE 34: The Caribbean (except Dominican Republic), Bahamas, French Guiana, Guyana, Suriname, Turks and Caicos Islands, USA (FL, GA)